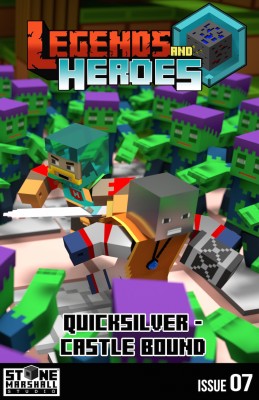 Legends and Heroes Issue 7-Quicksilver – Castle Bound!
Dreams of adventure finally coming true, but will Dane survive?
About the Book
A blacksmith can swing a hammer, but can he swing a sword? Dane has just left his smithing apprenticeship to pursue the adventure he has been waiting for his entire life—how will he handle his first taste of the battle? He is young, impulsive, and inexperienced, but the Quicksilver that coats his body might be of more use than originally expected.
Dane's adventure heats up as he is thrown into battle and meets more of the Royal Guards he so admires. Will they be able to help him in his quest to identify how he survived being coated in the mysterious metal covering his skin? Join him in his journey to find out!
Other Book list in "Legends & Heroes Minecraft Comic Books (Individual Issues)"