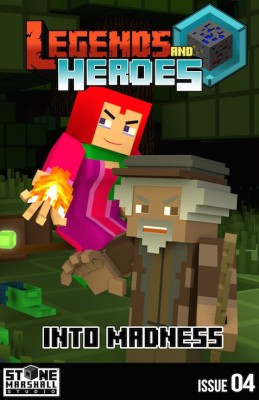 Legends and Heroes Issue 4-Into Madness
$0.99 eBook, $9.99 paperback
When does being a Guardian of Minecraft become too much?
About the Book
More of Legends & Heroes COMING SOON!
Subscribe to be notified when new Issues are released and get updates and bonuses!

The Stone Marshall Studio is developing a new series: Legends & Heroes. Created by Stone Marshall, the author of the popular Flynn's Log series.
A hybrid of comic-book style illustrations and short stories. Each issue is fun, challenging, and engaging.
These interrelated  stories follow a series of characters on a journey through life in Minecraft. Relatable characters, thrilling action, and colorful illustrations will suck in readers and leave them excited to read the next adventure!
Secrets await!
Solve the puzzle, uncover secrets!
Into Madness: Issue 4
Cambria is a strong and fearless guardian of Frenrir Forest and the land known as Beyond. Together with her husband, Liam, she has protected the realm for many decades. She can slay endermen like it's no more effort than squishing a bug, and kill hordes of zombies with a snap of her youthful fingers. But with such power comes great responsibility, and if she loses control, there could be dire consequences . . .
The life of a guardian is difficult. But can Cambria withstand the loss of the person she holds most dear? What lengths will she go to in order to keep the life she and Liam have built?
Other Book list in "Legends & Heroes Minecraft Comic Books (Individual Issues)"