The Nintendo Switch has finally been revealed, and Nintendo looks set to come out swinging when the new console is launched on March 3. As well as splitting the difference between home and handheld gaming, the Switch is bucking recent Nintendo tradition by having a stellar line-up of Nintendo Switch games announced already. Here are all the highlights revealed, to date.
Super Mario Odyssey
In Mario series lore Mario and Luigi are from Brooklyn, New York (well, sometimes) but it's never been a world the colourful, mushroom-gobbling plumber has adventured in – until now. Super Mario Odyssey sees the cartoonish hero running around both the familiar Mushroom Kingdom and new, realistic city environments, interacting with full-size humans and wall-jumping up skyscrapers. Throw in new abilities thanks to his now-sentient hat – which can be thrown like Wonder Woman's tiara to attack enemies or create a temporary platform to jump across – and this is easily the Nintendo Switch's first 'killer app'.
The Legend of Zelda: Breath of the Wild
The title of 'killer app' might go to the latest Zelda, and the only reason it doesn't is that it's a split release, also coming to Wii U. The prospect of console quality Zelda on the go is tantalising though, and with more than 100 dungeons, a vast open world, and deep crafting mechanics to mix up the usual gameplay formula, this coule redefine 'epic'.
1-2-Switch
The Nintendo Switch's answer to Wii Sports, 1-2-Switch is a mini-game collection designed to showcase the hardware's features. In total, there are 28 of these mini-games to get to grips with, nearly all of which are played by looking at your opponent, not the screen.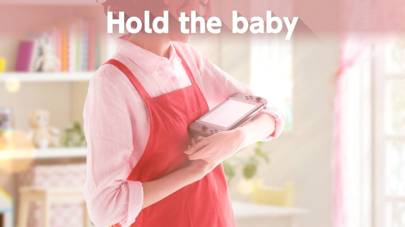 This may sound odd but it takes gaming into real space, with players psyching each other out face to face before quick-draw shoot-outs, or waving the Joy-Con controllers around like swords. A contender for best party game.
– Read WIRED's 1-2-Switch review
Super Bomberman R
Possibly the biggest surprise of the Nintendo Switch's reveal – Bomberman is back! Konami, having been almost dormant on console games since Metal Gear Solid V, seems to have realised the wealth of its gaming IP, and is bringing one of its most beloved franchises to potentially the best platform for it. The social and portable aspects of the Nintendo Switch combined with Bomberman's simple but addictive mechanics could be the perfect pairing.
Lego City Undercover
History repeating itself? Lego City Undercover was originally released on the Wii U, where it became the best Lego game that barely anyone played. Loosely inspired by Grand Theft Auto, with cop Chase McCain returning to Lego City to track down his criminal arch-nemesis, it remains one of the best Lego games ever made. This remastered version – which is also coming to PS4 and Xbox One – makes its bow on Nintendo Switch though, now with extra features. Hopefully, it'll finally reach the audience it deserves.
Xenoblade Chronicles 2
The original Xenoblade Chronicles never got a fair turn at bat – initially a late, niche release for the Wii, and later ported to the 3DS where it suffered from the tiny screen. Xenoblade Chronicles X for Wii U didn't fare much better, with most players missing out on the game. Third time lucky, then, for Xenoblade Chronicles 2, Monolith Soft's epic new space fantasy. The trailer doesn't reveal much, beyond it being an action-RPG, but it looks beautiful.
Splatoon 2
The first Splatoon was arguably the best game on the Wii U, so it's incredibly good news to see Nintendo moving forwards on a full sequel for the Nintendo Switch – especially since the social nature of the portable console meshes perfectly with Splatoon's multiplayer nature. It looks set to offer brand new ways to splat too, including more powerful weapons, new abilities, and arena-drenching inkstorms.
Mario Kart 8 Deluxe
Conversely, the Wii U's other masterpiece is only upgraded for Nintendo Switch – but it seems to correct the original's only grievous error. Battle Mode was a mess on the Wii U, and it thankfully looks to have been heavily refined here, bringing back more of an arena tournament rather than the track-based race combat of the base game. At the Nintendo Direct event on April 12, Nintendo added that the game will have more unlocked tracks, characters and carts than any previous version of the game. Deluxe arrives on April 28.
– Read WIRED's Mario Kart 8 Deluxe review
Fire Emblem Warriors
Publisher Koei Tecmo doesn't even need to show any gameplay in its reveal for Fire Emblem Warriors – the name alone reveals it's yet another horde-based hack and slash effort, in the vein of Dynasty Warriors. However, the earlier Hyrule Warriors did an exceptional job of making the button mashing action blend seamlessly with Zelda lore, so hopefully this can do the same for the mythology of the Fire Emblem universe.
Arms
Nintendo isn't much known for fighting games, but Arms looks like the Nintendo-est take on the genre you could imagine. Two fighters enter an arena and battle it out with extendable spring arms. Mechanically, it looks suited to showing off the functions of the dual Joy-Con controllers, with players holding one in each hand and using motion controls to attack and defend. During the recent Nintendo Direct event, the firm revealed more about Arms' gameplay, including a new character called MinMin, and said it will launch on June 16.
Project Octopath Traveller
It's hard to parse much information from the 45-second reveal trailer, but despite surface appearances, this looks to be more than your standard retro-style JRPG. With deceptively attractive visuals – pixel-based characters inhabit a layered, 2.5D world filled with beautiful environments and impressive lighting effects – this seems set to dive into the minutiae of role-playing, teasing vastly different experiences based on your choices. Almost certainly not a final title either, but this an interesting-looking prospect from Square Enix.
Shin Megami Tensei: Brand New Title
The best thing about Atlus' Shin Megami Tensei games is how mind-bendingly, gut-twistingly weird they all are. This cinematic trailer tells us nothing, other than the final game (probably) featuring some of the series' more familiar demons, and a new hero – maybe? – who looks like a tokusatsu superhero, hanging out in a run-down building. What the game is actually about, we have no idea – but we can't wait.
Sonic Mania
Sonic Mania is a loving flashback to the 2D superspeed side-scrollers of the '90s. A celebration of Sonic's origins and finest moments, the Nintendo Switch release doesn't appear to be any different to the already-announced version for PS4, Xbox One, and PC, but it is nice to have confirmation it'll be available – even if it is still a bit strange to see Sega mascot Sonic headlining a game on a console made by former rivals Nintendo.
Puyo Puyo Tetris
Sega dives deep into its catalogue for this puzzle game mash up. Tetris is an internationally renowned classic, while Puyo Puyo – beloved in Japan – is best known in the west as the source for Doctor Robotnik's Mean Bean Machine. This crossover was originally released for PS Vita and PS3 in 2014, but the Nintendo Switch release will be its western debut. The mechanics of both games are combined in various modes, to create an addictive new twist on fast-paced puzzle gaming. A slightly later release for the Nintendo Switch, this arrives on April 25.
Minecraft
Minecraft is set to join the Nintendo Switch ranks on May 11. The crafting game on Nintendo Switch will look similar to the Wii U version, complete with exclusive Super Mario Bros-themed content.
Ultra Street Fighter II
The game that dominated the fighting genre in the 1990s is making a return on Nintendo Switch with all the original fighters and bosses, the characters added in Super Street Fighter II, plus new additions Evil Ryu and Violent Ken. Players will be able to use Joy-Cons to challenge friends and strangers and, in addition to versus action, you can now team up with a friend to take on the CPU in Buddy Battle mode. The game is released on May 26.
And there's more…
Following the Nintendo Switch's reveal, other publishers started revealing their upcoming titles for Nintendo's new machine.
Bandai Namco has confirmed Dragon Ball Xenoverse 2 will be coming to the console, while an entry in the Tales of RPG series is also in development. Most excitingly, the publisher is working on a new Taiko Drum Master release, bringing the brilliant rhythm action title out of Japan for the first time in years.
Activision has confirmed the enduringly popular Skylanders will be coming to Nintendo Switch, with the latest entry Imaginators arriving in March. The Nintendo Switch version will introduce a digital library, allowing players to store characters from the physical toys, making it easier to play on the go.
Ubisoft's slate includes recent winter sports title Steep, taking players on a tour of the Alps; Just Dance 2017, now playable with up to six dancers at a time if you have multiple Joy-Con controllers (or use a smartphone app to double as one); and Rayman Legends: Definitive Edition, which the publisher calls the "ultimate version" of the beautifully animated platformer.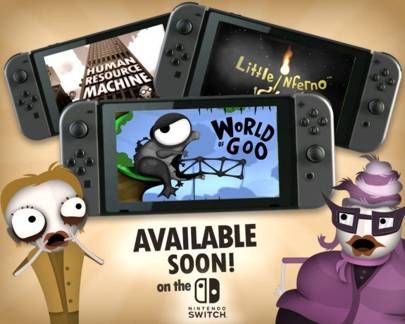 Indie publisher Tomorrow Corporation has revealed it's bolstering the day one line up with three games from its back catalogue. 2008's phsyics puzzler World of Goo, 2012's flammable mini-sandbox Little Inferno, and 2015's programming puzzler-cum-corporate satire Human Resource Machine will all be available on the Nintendo Switch on March 3.
Interestingly, these will be digital-only releases, indicating Nintendo's eShop – or the Nintendo Switch's equivalent – will be active on launch day. Details on the online store have yet to be revealed by Nintendo though, and Tomorrow Corporation has not revealed prices for the trio of games.
Oceanhorn: Monster of Uncharted Seas, a Zelda-esque adventure has also been confirmed for release on the Nintendo Switch. Set in a water-logged world dotted with islands, players guide a young boy on a quest to find his missing father while uncovering the secrets of the ancient kingdom of Arcadia and a legendary sea monster – the Oceanhorn of the title.
Oceanhorn was first released on iOS in 2013 before receiving upgraded and expanded ports on PS4, Xbox One, and PC, so perhaps won't be the most demanding of the Nintendo Switch's power. However, the game's publisher says it "will run beautifully on the powerful Nintendo Switch."
No exact release date has been confirmed, but the game will launch in 2017. Perhaps more interestingly, the first game coming to the Nintendo Switch, albeit late, could be prelude to the in-development sequel Oceanhorn 2: Knights of the Lost Realm arriving on Nintendo's hardware when development is finished.
Expect more games to be revealed for Nintendo Switch in the days ahead.
Nintendo Goes Indie
If the above slate of titles weren't enough, Nintendo recently held one of its trademark Nintendo Direct broadcast exclusively focused on indie games.
The showcase unveiled a staggering 60 titles coming to Switch, showing a major push on Nintendo's part to get more independent developers involved with the new console. It's a great plan – indie devs are increasingly able to produce so-called 'triple-A' quality games, with an extraordinary amount of variety and imagination on offer. The independent sector is also showing tremendous growth – in volume of games and popularity with players – making it exactly the right creative community to court.
While some of the games announced are beloved classics – the likes of Towerfall: Ascension, The Escapists and Overcooked are perennial favourites that have already proven themselves – many will have enhanced features making use of the Switch's unique hardware. Others, such as Yooka-Laylee and Gonner are brand new, and Nintendo has even managed to snag a few exclusives, as with Runner 3.
Release dates are still to be confirmed for many titles, but the full list of 60 indie games coming to Nintendo Switch is as follows:
1001 Spikes
Away: Journey to the Unexpected
Battle Chef Brigade
Blaster MasterZero
Cave Story
Celeste
Dandara
Duck Game
Fast RMX
Flipping Death
Gonner
Graceful Explosion Machine
Has-Been Heroes
Hollow Knight
Hover
Human Resource Machine
Ittle Dew 2
Kingdom: Two Crowns
Little Inferno
Monster Boy And The Cursed Kingdom
Mr. Shifty
Mutant Mudds
NBA Playgrounds
NeuroVoider
Oceanhorn: Monster of the Uncharted Seas
Overcooked: Special Edition
Pankapu
Perception
Portal Knights
Redout
Rime
Rive
Rocket Rumble
Rogue Trooper Redux
Runner3
Shakedown Hawaii
Shovel Knight: Specter of Torment
Shovel Knight: Treasure Trove
Snake Pass
Space Dave!
Splasher
Stardew Valley
State of Mind
SteamWorld Dig 2
sU and the Quest for Meaning
Terraria
The Binding of Isaac: Afterbirth †
The Escapists 2
The Fall Part 2: Unbound
The Jackbox Party Pack 3
The Next Penelope
Thumper
Toejam and Earl: Back in the Groove
Towerfall Ascension
Treasurenauts
Tumbleseed
Ultimate Chicken Horse
Unbox: Newbies Adventure
WarGroove
WonderBoy: The Dragon's Trap
Yooka-Laylee
Zombie Viking