Considering how strange the past couple of years have been, the premise of a star-studded music festival hosted entirely in the virtual worlds of Minecraft doesn't sound even remotely far fetched. In fact, recent events and crossovers have led many to believe that video games are EDM's next frontier.
This weekend, Chandler Riggs is hosting Pixel Festival, a full-fledged music festival inside Minecraft. For those unfamiliar with Riggs, he is known for his portrayal of Carl Grimes in the massively popular TV show The Walking Dead as well as a current role on ABC's A Million Little Things.

EDM.com was lucky enough to be able to speak to the multi-talented star and learn more about his endeavors in both music and technology, and where the two worlds meet.
First things first, you may be wondering why a career actor is hosting his own music festival inside a video game. As some attentive dance music fans know, Riggs makes future bass under the name Eclipse and has released music on Steve Aoki's label. Riggs is also an avid gamer and said both gaming and music are his two favorite hobbies.
After the success of Fire Festival, the last Minecraft festival Riggs was associated with, he decided he needed to get into the game (pun intended) and create the virtual festival of his dreams. With that vision in mind, he created url.events, his very own team dedicated to creating virtual music experiences.
Although he had tons of fun and is friends with the minds behind Fire Festival and Coalchella, his festivals seek "everyday people that go to [real life] music festivals." When speaking more on who the general audience is he mentioned inclusion, saying, "…People that can't go to these [real life] festivals can come to these events. It's really cool to be behind something as inclusive as this."
The idea of having a music festival experience for free at home is something many dance music fans can get behind. With transportation, lodging, tickets, food, and other expenses, going to a music festival is not something everyone can swing. Riggs went on to mention a problem that many of us have faced: Many of our favorite artists don't play in our home countries as often as we'd like.
"[Virtual festivals] are a way for people to go see their favorite artist if they live in a country where their artist doesn't come to," he told us. "It's an awesome way for them to get that experience without having to physically be there."
Riggs understands that virtual festivals will never replace real life festivals – and he agrees that real life festivals are "life-changing" – but this is an opportunity for some people who can't get out to festivals or who are new to electronic music can get their festival fix.
With all that being said, enter Pixel Festival.
Riggs certainly proved his dance music cred when he released the hand-picked lineup. He made it clear that he is a fan of each and every one of the acts he selected to take the virtual stage.
Superstars like Virtual Riot, Flosstradamus, What So Not, Anna Lunoe, and many more are featured on the url.events inaugural festival alongside the eSports celebrity-turned EDM sensation, Ninja.

When asked about Ninja's involvement Riggs stated: "I want all people that are related to gaming and music in any aspect to be able to be a part of this…He's super excited for it, and we're super excited for it. It's going to be awesome".
Due to game limitations, Pixel Festival will not have live audio, however, they have created a clever way to give the artists control during their set. Riggs described the process in detail:
"Since Minecraft doesn't let us stream audio into the game, all of the sets are prerecorded. But, to kind of make up for that, we have a bunch of different ways that the artist can interact with the crowd on stage, aside from just typing in the chat. They can press buttons to activate fireworks, give different effects to the people in the crowd, for example, they'll start floating, or there's a cool fun surprise on one stage for what they can do to the crowd. It's just another way for the artist to interact with the crowd to kind of make up for the prerecorded aspect of it."
Half of any festival experience is the festival grounds. The one advantage a virtual festival has over real life is that there are no limitations to what you can do. Want to alter gravity and send attendees into the sky? Go for it. Want to make a giant castle stage with flying dragons in the sky? Why not. Anything is possible.
Riggs and his team of just four builders ran with that idea and created something truly insane. The festival grounds at Pixel Festival will feature everything from giant candy sculptures, to lava filled rivers, and even giant, dabbing unicorns.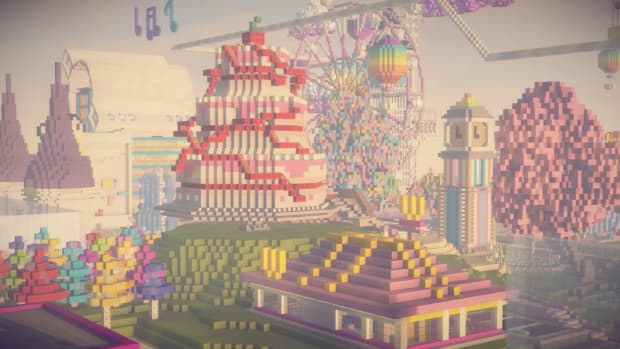 4GALLERY4 IMAGES
The very idea behind Pixel Festival aligns with the notion that EDM is conquering the video game world. Marshmello and Fortnite's massive collaboration showed the world that gamers are ready to let dance music into their lives, while events like Pixel Festival hope to take things even further and offer complete experiences with fewer restrictions.
When asked when we should expect new music or shows from Eclipse, Riggs said:
"Hopefully soon. I'm looking at getting on a few shows in Europe. I'm hoping to get some of these because I'm still producing music every day and working on new stuff. I'm working on getting some vocals back for a few songs – and hopefully, I'm going to have a new release from Eclipse pretty soon.
To see their hard work in action and listen to some sets inside the virtual madhouse, fans who own Minecraft can log onto their server April 6th and 7th from 6:00-11:00 PM PST to join in on the fun.