Your kids want to make Minecraft YouTube videos – but should you let them?
Millions of children want to be the next Stampy or Diamond Minecart. How to do it is easy enough, but how to do it safely and appropriately is the bigger question

That's the dilemma facing a growing number of parents, whose children aren't just watching YouTube Minecraft channels like The Diamond Minecart, Stampyand CaptainSparklez – they want to follow in their blocky footsteps.
"I want to make Minecraft videos and I want you to put them on YouTube," was how my eight-year-old son put it recently. "I've been practising talking while I play, and I'm nearly as good as Stampy now."
That's some confidence. YouTuber Joseph "Stampy" Garrett has nearly 7.2 million subscribers to his channel, with videos that have been watched more than 4.8bn times.
His fellow Brit Dan "The Diamond Minecart" Middleton is even more popular, with just under 10 million subscribers and 6.3bn video views.
For tweens and teens around the world, these are the new pop stars. But whereas the historical cliche about pop fans has them miming with a hairbrush to their favourite stars' songs, today's children understand that they can do exactly what their Minecraft idols are doing, on the same stage – YouTube.
"I would say that the majority of my audience has tried making video, even if it's just using their parents' phone and filming the TV screen as they speak," said Garrett, when I interviewed him for the Guardian in October 2015.
"Even if they're not recording, they're speaking as if they're doing a video. At a recent event, I asked 'who in the audience is a YouTuber?' and the majority put their hand up: they all want to do it."
For parents, this is sparking several questions. First, could their children really make Minecraft videos for YouTube, and if so, how? To which the short answers are "Yes" and "More easily than you think".
A third question: should their children be allowed to make Minecraft videos for YouTube? That's a bit more complicated, as I found out.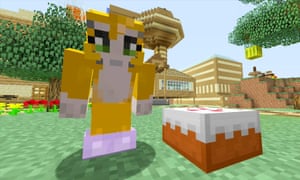 Getting set up
In my case, the "how?" question had already been answered before my children – the eight year-old's younger brother wasn't going to be left out – developed their block-based broadcasting ambitions.
In 2014, I'd bought a £120 device called the Elgato Game Capture HD with the intention of producing some video reviews of apps. It sits in between your games console and computer, feeding video from the former into editing software on the latter. A USB Skype headset plugged in to the computer provided the means for spoken commentary while playing.
If your children play Minecraft on a PC or Mac, you don't need the extra hardware (apart from a headset) – Google "screen capture" software and pick from options including Fraps, ScreenPresso, Ezvid, Bandicam and many more, with a range of prices.
The resulting videos can be uploaded to YouTube as they are, or edited using any video-editing software: iMovie on Macs, for example. Meanwhile, YouTube has clear instructions online for creating a new channel and uploading videos.
Parental guidance
With my sons demanding to try their hands at Minecraft YouTube videos, I had the kit and knowledge to do it. Deciding whether or not it was a good idea took a bit longer though.
YouTube has an increasingly diverse and fascinating community of creators making videos for children to watch, but I worried about allowing my kids to become creators themselves: from toxic comment threads to more general concerns about their privacy and safety offline as well as online.
With their teenage years ahead of them, my children will have ample opportunity to be made to feel awful by social media in the future. Would I be a bad parent for potentially exposing them to that even earlier?
I have no ambitions for my children to be the next Stampy or DanTDM, but like a lot of parents, I'd love them to find the ways they like to express themselves creatively – whether that's writing stories, drawing and painting, making up songs and playing instruments, or other activities.
Making at least one Minecraft video and publishing it on YouTube seemed like a fun project, but one requiring some strict ground rules.
In our case, these included sitting both my sons down and explaining why I didn't want them to use their real names in their videos – or to talk about their families, where they live or any other personal information.
Both had to make up their own characters, settling on "Percy Panther" and "Chickeny Chap", and just as importantly remember those names while recording.
We agreed time limits on our recording sessions – half an hour per child split between three 10-minute episodes – and for my part, I learned how to disable comments on the uploaded videos.
Watching the results
So how was it for them, and for me? Our recording session was genuinely fun, with no worrying moments bar one son's enthusiastic "HELLO! IT'S [FIRSTNAME] DREDGE FROM [TOWN NAME]" introduction when he forgot he was a virtual panther, requiring a swift restart.
Both children loved the creative challenge of making a good video: for example, switching to a camera view of their character at the start and end of each video to deliver their intros and sign-offs; and figuring out what the narrative arcs would be for the episodes beyond "wandering around and shouting".
It surprised me how much they'd soaked up from watching their favourite online stars, too.
Sometimes that wasn't such a good thing: both children nicked Stampy's "BYYYYEEEEEEE!" signoff wholesale until I pointed out that their idol might be a bit miffed if he heard it.
But their ability to explain and entertain while building, fighting and tackling the Ender Dragon was hugely impressive. Today's children are getting a broadcasting crash course whether in front of a camera or behind it with joypad.
One unforseen parental headache was the view-count aftermath of uploading each child's first video to my YouTube channel. It really didn't matter to me how many views they got, and I was secretly relieved that the totals were tiny: 31 and 14 respectively in the first few days after posting.
The problem, as any parent with more than one child will have spotted from that last paragraph, is that the totals weren't the same: one son is twice as "popular" as the other, and he's not shy of rubbing it in.
Foolishly, I hadn't spotted that problem coming. On a more positive note, both are feeling proud as punch that they are "on YouTube like Stampy", so the intense oneupmanship at home is hopefully being balanced by a boost to their playground credibility with their friends.
Having done it once, would I put my children on YouTube again? Yes, but not to make them famous. The joy of this process was in the making, not in the distribution.
I spent a couple of hours with my sons making something creative that they were excited about, with lots of laughter (and only a few stern rebukes about why the Chickeny Chap brand probably shouldn't be so reliant on fart and bottom jokes).
I'm no Mrs Worthington, then. But in this case, responding positively to my children's demands felt like a fun – and safe, with the ground rules – thing to do together.
Your kids want to make Minecraft YouTube videos – but should you let them?